Discussion Starter
·
#1
·
Few people know that our market extends far beyond the RZR. However the truth is the Aerocharger has been around since 1976, long before UTV's. Since then our turbos have been used on everything from drag cars to military aircraft and just about everything in between. Since not too many people know what we're all about I figured I'd share an inside look at what else we make. One of my personal favorites is our Porsche 930 (911 Turbo) system. These cars came turbocharged from the factory but turbo-lag has a big issue with these cars. Boost would take so long to build that it would make high-speed cornering very dangerous.
Before I joined the Aerocharger team I spent my years working on Porsches. I've experienced everything from bone stock 930's to 500-600 monster 930's but nobody could solve the turbo-lag equation. I had never heard of Aerochargers before, but as soon as I met Brad everything changed. The Aerocharger is designed from the ground up, besting all the flaws of conventional turbos. It's more compact, it has it's own self-contained lubrication, it' more efficient, and most importantly it builds boost faster than anything else out there. Period.
I was naturally skeptical about these turbos at first, but from all my experiences with this company I can confidently say that these turbos are nothing short of superior. I knew I had to apply this technology to the cars I had been spending my live working on. Brad gave me the go ahead and I set forth to create the Hiper 930.
Now these cars are no slouch from the factory. They make 300whp and weigh 2700lbs. Even today that's a pretty good combination. The factory exhaust system is efficient (though heavy) and the intercooler system is surprisingly efficient as well. But a conventional turbo just can't cut it on these cars. I've driven 930's with ball-bearing Garretts and the lag was still there. So I didn't plan on just slapping our turbo on and calling it a "kit", I went back to the drawing board and redesigned it. Instead of having the turbo off to the side like the factory has it, I located our turbo in the center like the old Porsche race cars. To do this I built a custom header with flat 3-into-1 collectors and put our turbo dead center with the crank pulley. Now the exhaust has the shortest and most efficient path to the turbo. Post turbo I built a stubby muffler section using a 6"x6" cannister muffler and 3" dump tube out the passenger side. So take note, this system is basically three main parts: header, turbo, and muffler.
Here are the results:
The green and blue lines represent the stock dyno lines at different starting RPM's. The car didn't hit max torque until almost 5,000rpm and didn't even break the 200hp mark until 4,000rpm. The purple lines however represent the system that I built using the Aerocharger. Both systems were tested at the exact same boost level. You can see that with the Aerocharger the car made 300ft-lbs torque at just 2,500rpm and breaks the 200hp mark at 2,300rpm with a much broader power curve.
Though our customers will turbo up the boost from factory levels we did all testing at stock boost levels to prove the point that our technology does in fact have a major advantage over conventional turbos. We took our test car to one of the Porsche Club of America's track events and everybody was blown away. It made for some pretty good pictures too: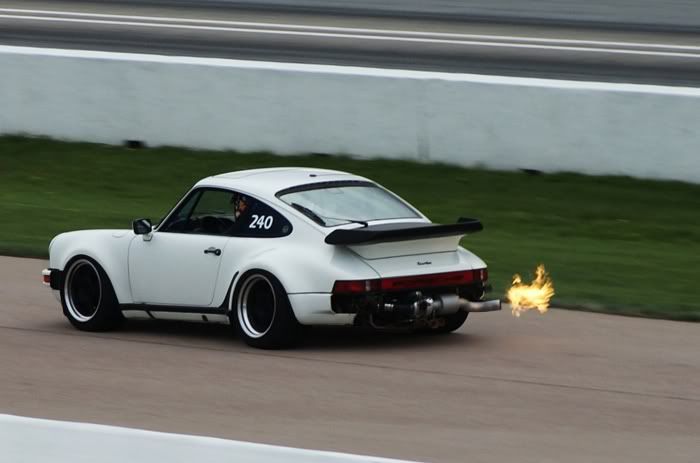 So next time you wonder what's the story behind Aerocharger you'll know what we're all about. Keep checking back for more "What Else?" posts in the Aerocharger section.