Discussion Starter
·
#1
·
Hello,
I just wanted to show you all the RZR that you never knew you owned. Last fall a small portion of your taxes went to purchasing this 2011 RZR 800. Since putting it into service this summer it has saved numerous homes and countless acres of timber from burning to the ground. It is an invaluable tool. It allows us to arrive at an emerging incident and quickly size it up. We can now gather our situational awareness exponentially faster than we ever could before.
ATVs and other UTVs have been used on fires for years. But, the RZR takes it to another level. IMHO, there is no better machine out there for what we do. The ability to carry two people, our tools, and our line gear in such a maneuverable vehicle is key. Driving other work/utility stlye UTVs is not the same as what the RXR can do. From running flat out in the desert southwest, to crawling over rocks, to climbing dozer lines over mountains in Montana, the RZR has been unstoppable. But, you already know that.
It is so handy. We can show up, buzz around, and get a quick picture of what is going on and what we need to do. I can jump out and get the guys going while my boss continues to get the "big picture". Once the guys get going I can jump back in and the boss can show me what he been looking at. I can jump back out and hike/scout inaccessible terrain and he can pick me up. We can haul drinking water, burn fuel, lunches, bladder bags, etc. to the fellas. We can grab someone to serve as lookout and run them over to a good vantage point much faster than we could in the Ford F550. In a medical emergency, we can tear the passenger seat out and slide a backboard in. It is so handy.
Since putting it into service this year we have logged 1800 miles. We pretty much went through the stock suspension in the first few months. We broke the pencil thin swaybar tie rods. Also, the factory shocks were sagging so badly that we could bearly clear anything. So, it is now outfitted with ZBroz 8" extended A arms with 2" suspension drop, Exit shocks, Polaris doors, some 3/16" aluminum skid plate, aftermarket aluminum roof, Polaris Ranger front wheels front and rear, and Sedona Ripsaw tires (9x26r14). We're not sold on the aluminum Ranger wheels as they ding/dent too easily. Next, we need a winch.
On the first fire we went on another crew saw us buzzing through a nuked out stand of timber (moon scape) and named it the "moon buggy". The name has stuck. Anyway, here are a couple photos...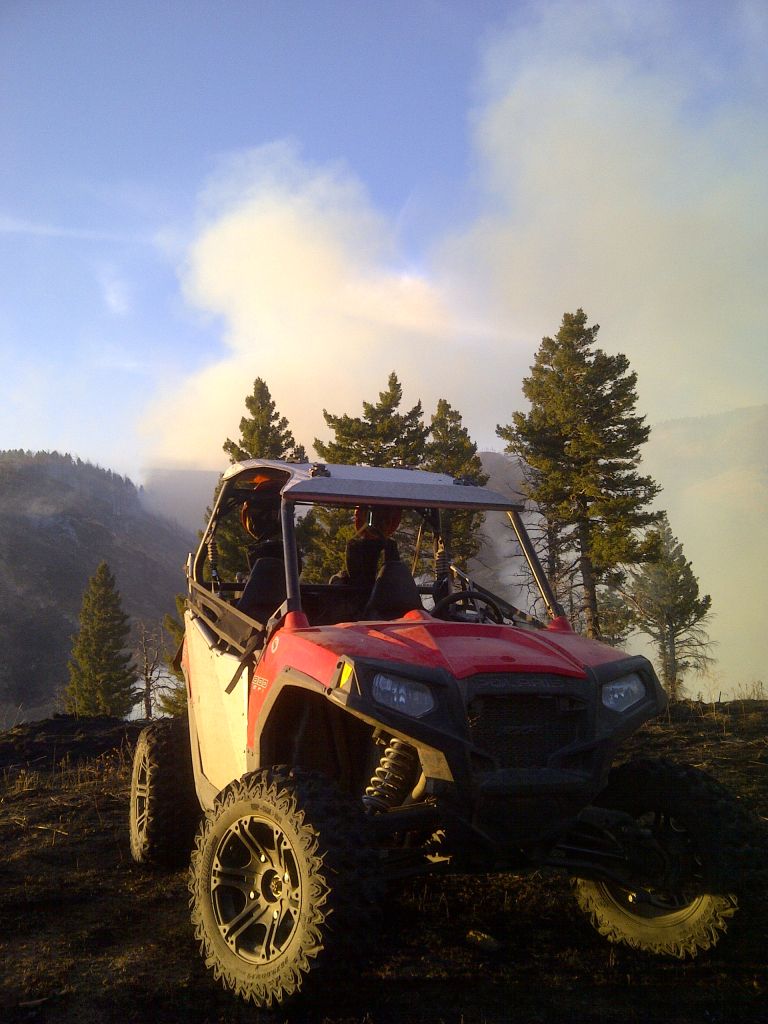 I'll be lurking around looking for any reliability/durability tips to keep it in service as long as possible. If you have any, please post.
Thanks for paying your taxes.