This Subject should be useful for anyone needing to perform this task OR if you don't know any details regarding the Pump, allow you to view it internally.
I talked a GOOD Friend of Mine into Doing the Work as I took the Pictures.:rofl3:
Believe it or not, HE's Still a Good Friend.
Rebuild/Replace Water/Oil Pump Seals - Work Performed by Steven (SuperSPuppy) MASTER Backyard Mechanic
If you must change the Oil Pump Seal, the Engine must be pulled and the Engine Case removed. If only changing the Water Pump Seal, this may be done with the Engine left in.
Picture of Engine Case Oil Seal
Use a Brass Punch to Gently Knock Out the Oil Seal
25 mm Socket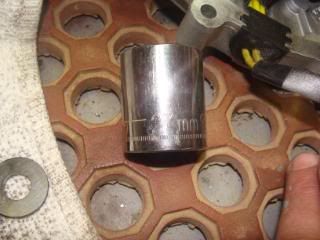 Water Pump Seal
Gently Remove the Water Pump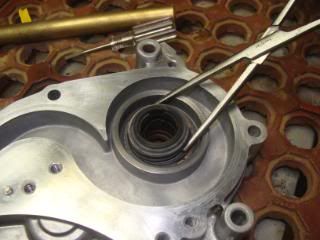 Water Pump Seal Out of Copper Gasket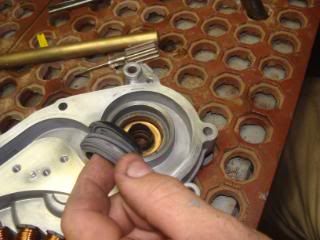 Water Pump Seal w/Copper Gasket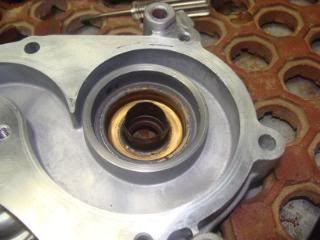 Knock out the Oil Seal Behind the Water Pump
Oil Seal in Hole Behind the Water Pump
Needing a bit of a Break and some Humor:scared2:
EVER GET TIRED OF JUST STICKING Around:rofl3:
New Oil Seal
Use a Socket to Knock Out the Copper Water Pump Seal
Gently using the 25 mm Socket to Remove the Seal
Copper Water Pump Seal Removed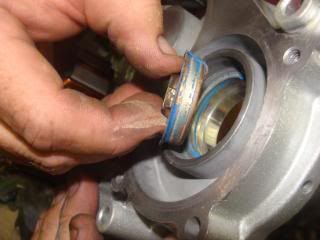 SKIP
Gently/Carefully Trim the Plastic Cover Off the New Water Pump Seal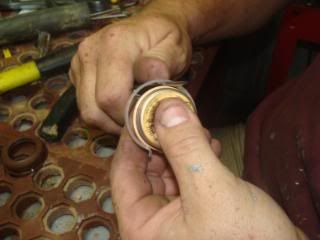 Clean the Engine Case Cover
Cleaned Seal Inside Weep Hole
Picture of What Weep Hole Looks Like from the Outside
Gently open the New Water Pump Seal Leaving the Top Part of the Seal STILL in the Plastic Cover
This is what if Looks Like without the Cover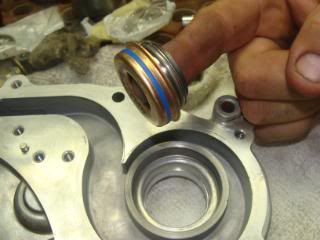 Picture of Water Pump Seal JUST sitting in the Engine Case – NOT INSTALLED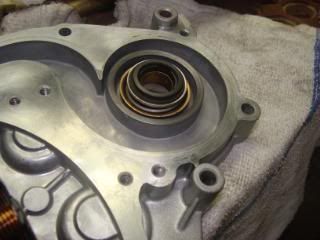 REDNECK Water Pump Tool---select a Socket that just fits around the inside rubber pump, so that it is sitting against the Copper Lip on the Seal
Socket Size ??? 1 ¼"
Place the Engine Case on a Flat Solid Surface and Tap the Seal Gently until it is Bottomed Out
Bottom View of Engine Case with Water Pump Seal Installed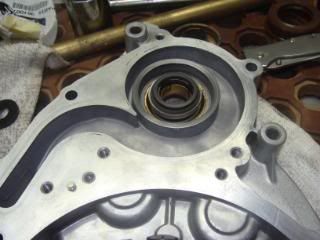 Mag Side of Pump Seal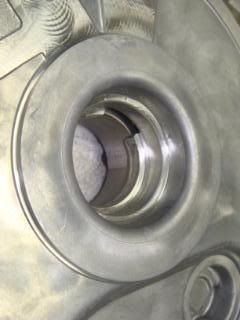 Picture Showing Mag Side
Using a SMALL amount of Gasket Seal to aid in the Installation, HOWEVER NOT RECOMMENDED supposed to be installed DRY
Use a Socket as big as the lip on the Seal MAYBE 1 ¼"
Hand Press the Seal UNTIL it Bottoms Out
Example of Finished Oil Pump Seal Viewed from the Mag Side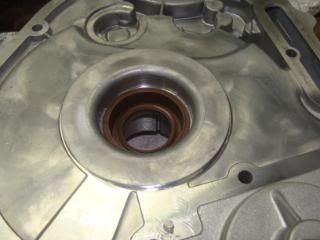 NOTE : You can SEE the Weep Hole at the Back of the Water Pump
Oil Seal at Water Pump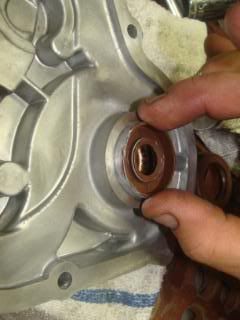 Turn the Socket Upside down
Gently push in until it is Flush with the Engine Case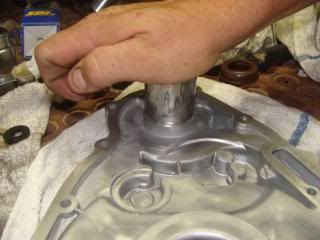 WARNING and SIDE NOTE : Seal is Flush with Outside Engine Case BUT not pressed all the way in against the Water Pump Seal OTHERWISE this would BLOCK the Weep Hole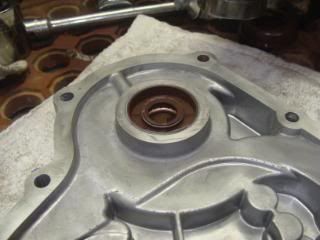 Place Top Half of Water Pump Seal on Water Pump
Remove Cover
The Link below is to a previous post concerning the Weep Hole
http://www.rzrforums.net/engine-drivetrain/21550-if-you-ride-dust-mud-read.html