So the 2012 King of the Hammers race is next week, and we figure what a great place to test our new MTS Stage 2 suspension kit. So we partnered up with Northern Arizona ATV and Offroad to help them out in the suspension department. They started out with a stock XP, and built a custom fully welded in race cage, complete with doors and rear bumper. Then added a radio system, Muzzys dual exhaust, and race seats complete with seat heaters (after all, it gets a little cold in Prescott). We will be adding our new MTS Stage 2 suspension kit, along with Fox's new aluminum bodied 2.0 racing shocks, complete with dual rate springs, dual rate compression and rebound adjustment, and position sensitivity (bottom out cups for the last 25% of shock stroke) for unmatched performance.
We just raised the car up on the lift.
Here are some before shots: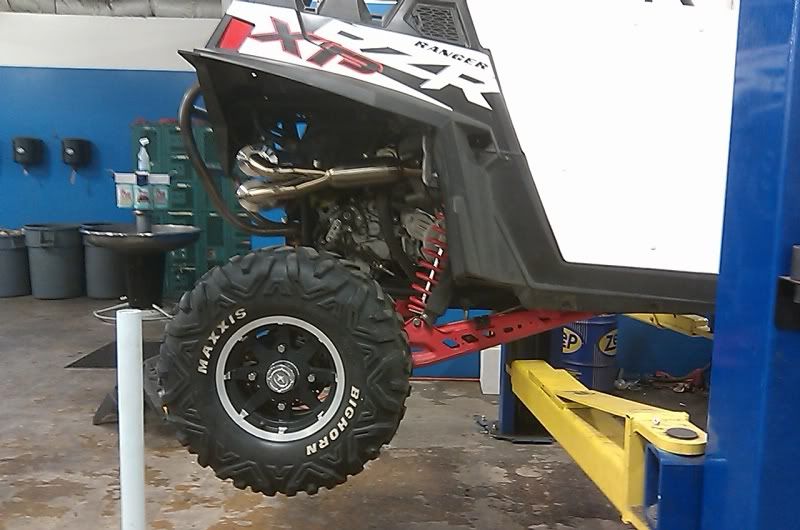 The new suspension system will give the car a 4" longer wheel base for more stable high speed runs, and 3" wider per side for more wheel travel and stability going through the corners. It will have just shy of 17" of travel, and combined with the extra protection of the built in bottom out cups, this kit is going to be a real performer! Its just begging for speed, rocks, sand and air time!
Here are some shots of the new shocks:
Rebound adjusters:
Dual speed compression adjusters:
The new shocks are super light weight compared to a steel body racing shock, plus they dissipate heat more protecting against shock fade. When dealing with low horsepower machines, light weight is extremely valuable!