Hey Guys,
Very glad to hear all the good feedback, we know that our masks provides the very best protection from all dust and particulates down to .1 micron in size(which is as small as diesel smoke). Sign up on our site, create a username, and you can use the code NEW2RZR and you will receive 10% off your order... Please let me know if anyone has any questions about our complete dust protection product...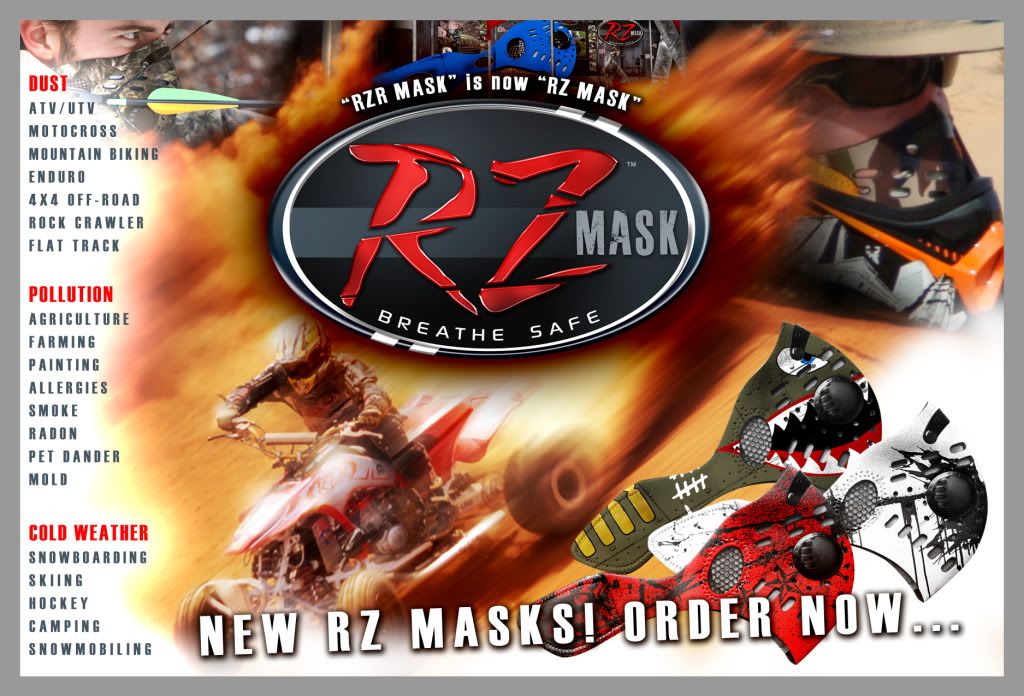 The RZ Mask Protects riders from 99.9% of all dust and particles, down to .1 micron in size(as small as diesel smoke) and also eliminates all fumes and odors while your out on the trails as well...
ATV Magazine June, 2011 Atv dust mask comparison ::
"The most sophisticated product we tried, and the most effective in heavy dust..."
UTV Offroad Magazine ::
"Five Star Product, Will never ride without one."
MOAB Jeeper Magazine ::
"Top Choice"
Sabrina Peterson:
The mask is comfortable and with the flexible metal band I could shape it to my face.
Rocky Dorame:
I really wished I had this at the King of the Hammers. Breathing was impossible!
Shereen Davis:
At the end of the day, when everyone was coughing, I knew exactly how much the RZR Mask had done for me.
Here is a link to the MOAB Jeeper Video Review :