No way I'm paying $18 each for the L&R hold-downs. They can only clamp something down to the bed and don't provide a place to tie off or anchor a bungee. So I made my own.
There are a few different types of expanding rubber plugs available in hardware, boating and plumbing stores. Here are some choices of 1" stoppers that should be available at most well-stocked hardware stores and plumbing supply:
The rubber on the left and right plugs is a little soft so I didn't trust it to be a good anchor. The plug in the middle uses a rubber stopper that's firm and solid. Once snugged in place I'm unable to pull it out. To make it usefull as a tiedown I replaced the metal parts with a 1/4-20 x 1.5" eyebolt and a 1/4-20 "T-nut". A T-nut is a woodworking nut with barbs that sink into wood to keep the tapped nut from spinning.
Cut or grind the barbs off leaving tiny nibs
to keep the nut from rotating on the rubber stopper. Run a regular nut up the shaft to jam against the eye or the end of the threads. Re-use the large flat washer that came with the stopper. Spin on the T-nut and the finished anchor will look like this: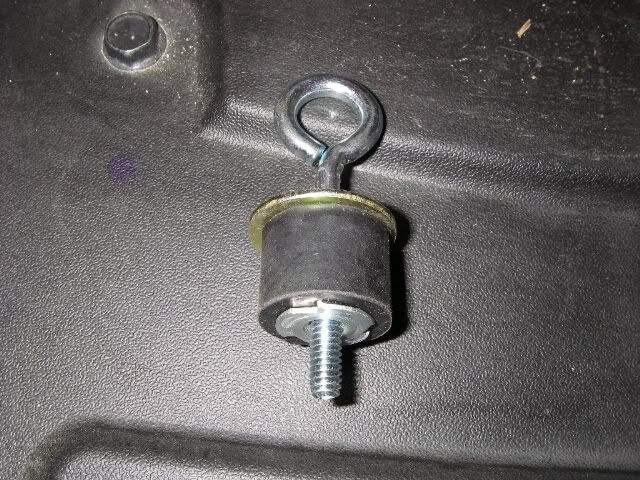 As you finger-tighten the eyebolt the rubber is squashed between the T-nut and flat washer and expands to grip the hole in the bed. Don't overtighten or you risk cracking the plastic sleeve in the hole.
You can also substitute a hook for the eyebolt to make an anchor that's convenient for looping the middle of a bungee thru.