A conversation in my build thread (link in signature) led to me to want to collect some data that may be of use in terms of gear reductions on these machines. I compiled this spreadsheet for anyone that may need the info, I'll put a link at the bottom of this post to download the actual excel file, and I'll include a screenshot in the post.
I can't say this will give you all the info you need to do a gear reduction, SSG's threads linked below have a better description for some models that include parts numbers and what fits what, but I wanted to put this together for info to anyone who may be interested. I'll try answer any questions I can for you, and I'm sure there's quite a few people that have info more specific to certain models, but hopefully this will help in some light at least!
I tried to include all XPT-S, XPT, XP1000, & RS-1 models initially (2 seat & 4 seat), and from what I found while gathering all the data, anyone with a 570,800,900, or 1000 trail has a trans that matches one of these exactly, it's just a matter of pulling up your specific schematic and comparing.
This list has all available gear ratios i could find looking through OEM parts diagrams, it's as accurate as they are. It doesn't tell you specifically what you'll need to do for gear reduction, but it puts all the info in one place and can calculate reductions and actual gear ratios (to an extent) and will let you compare models to see where you'll be in relation to where you start or to another model you may be curious about.
There are 3 drop down menus at the top left (Base Machine, Compare Model 1 & 2) that you can select a model from and it will autofill the gears into the calculation area.
I'm not the foremost authority on what parts are interchangeable with what, and I'm always open to more info and suggestions. I don't have a lot of time to spend on modifying the table, but there's a lot more that could be done too it if i find time, and i might look into that in the future. I will try and answer any questions to the best of my ability if anyone has any, and I'll post some links to other threads with conversation on gear reduction as well, hopefully we can gather all this in one place so we don't have to search to the depths of the forums anymore, so maybe it will be a little more efficient.
I'll try to update this lead post as much as possible if new information comes to light in this thread so we don't have to page through everything if the thread stretches out to countless pages.
Some notes that I have found about gear reduction:
(From Initial Posting, 1/4/2019)
The ACE 325 gearset (25/48) is the mostly universal reduction, this is the kit that SuperATV and several other places sell as well, it will provide a reduction across all ranges (H,L,R)
Polaris Part Numbers for this set: (Cheaper to buy the OEM gears direct)
#3235450 48T Stage 2 Gear
#3235451 25T Reverse Gear Shaft
67/25 is the lowest low gear I've found anywhere. Changing these gears will only reduce Low range
If you have a multiple piece input shaft,
this gearset come from a Ranger 1000 as are these part numbers:
#3235232 67T Low Gear
#3236132 25T Low Gear
Many machines also come with this low gear set from the factory (Ex: Highlifter, Rock&Trail, 2017 XPT4... many others), some use a one piece input shaft so you must replace the whole shaft to get the 25T gear, I might try to find time to compile a list of these machines over time.
Other Low gear sets are:
61/31
64/29
Your % of reduction will always be relative to the machine you start with... in example, I have a 2018 XPT4... i have the 61/31 low gear and 27/46 Stage 2 and Reverse Gear... which is pretty much the highest low gear you can get... I installed the 67/25 Low gear AND the 48/25 Ace 325 set.. so i have 53.49% reduction in Low and 12.7% overall... from those numbers that seems like a crazy low reduction.... but in reality... putting the Ace 325 gearset in a 2017 XPT4 (comes from factory with the 67/25 Low range set)... gets you a 12.7% reduction across all gears.... and now both machines have the same gearing across all ranges (Some machines have a different High gear as well... but we'll leave that for another day)
Forum member
@RZRCrawlin
says he has a guy the can provide a 49/24 aftermarket gearset to replace the Reverse Shaft and Stage 2 gear which would provide a 19.84% reduction across all ranges, some minor case grinding is required, and these aren't cheap gears, but that option is (in theory) out there now
Optimum Offroad sells some straight cut gears for several models, I'll note these are noisy and expensive, but they are an option as well. I believe these replace the idler shaft & stage 3 gear, so could be added to any reduction prior to that (not confirmed) (If anyone has any tooth counts or info on which gears these replace, please let me know and I'll add it to this info)
Optimum Offroad
(You can make the blow photos bigger by right clicking and opening link in new tab or whatever your browser likes to call it)
Screenshot of my spreadsheet: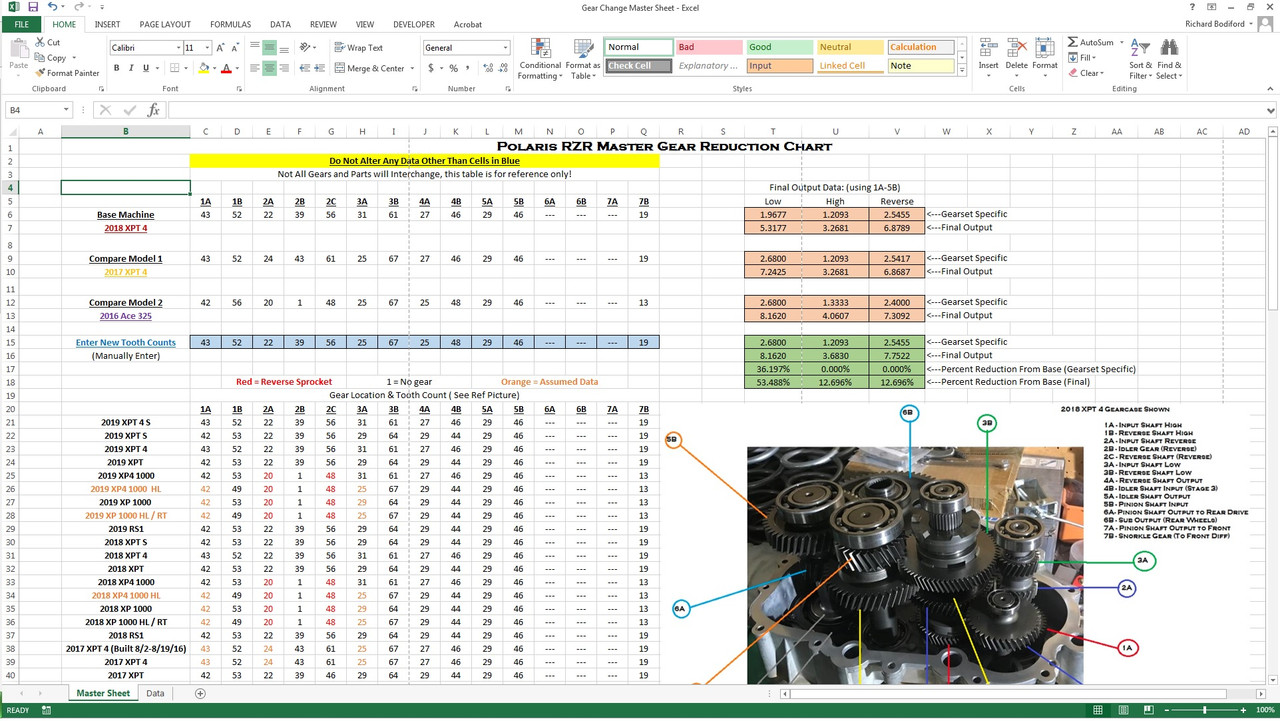 My gear labels for reference: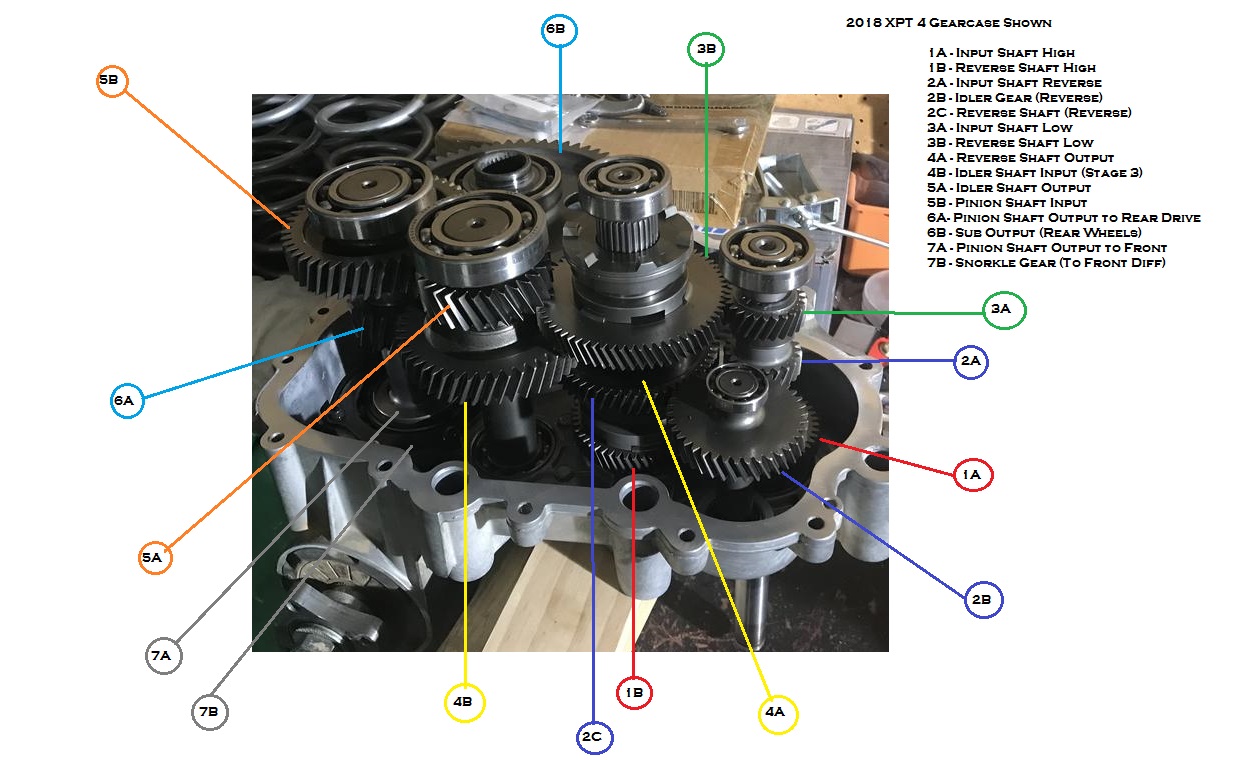 RZR_Joe's Diagram Label combined with my Labeling: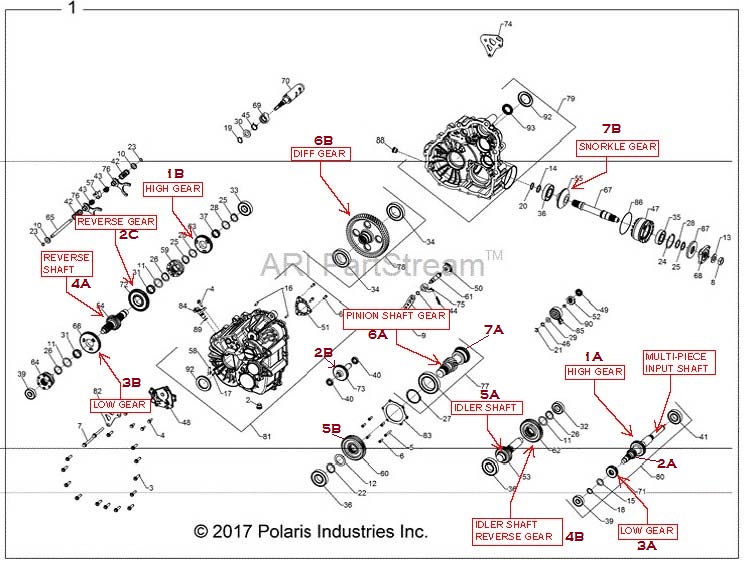 Links:
@RZR_Joe
Thread:
Ultimate Crawler Transmission
@SSGPohlman
Threads:
XP1K GEAR REDUCTIONS W PNs
XPT 2 GEAR REDUCTIONS WITH PN'S
RS1 GEAR REDUCTION W PNs
2015 900s 47% reduction writeup
My Build Thread:
My 2018 XPT4 "Bailey" and her Past, Present, And Future
Youtube Videos:
Roger Davis' Videos:
The 451 Removal and Disassembly Videos:
Solitude Customs 570/900 Video:
Drobbox Link To Download My Spreadsheet:
Gear Change Master Sheet
(Three dots in the top right of that screen will let you download the excel file)
Hopefully this can help someone figure this somewhat brain cramping topic out for their application! (or it'll make it harder... i hope not tho!)