·
◄►STARS & STRIPES◄►
Discussion Starter
·
#1
·
Preparing for the Oxygen & Octane Expo & the Convention Center.. My RARZ almost didn't make the show! in the last 72 hours I have gotten 6 hours of sleep and tried to knock out some more of the "important" things prior to installing the electrical. It is almost all hooked up, but
I did not hook up
the winch "switch" and also the connector plug (for using a 6 Foot cable if needed), I also
did not hook up
the roof lights due to the "switch", The reason why is that the Fullbore is designed for all the Stock electronic switches ect.. and not aftermarket..I am
NOT
cutting the stock plastic dash..I plan on ordering the [RZR dash Switch Package, Deluxe].....check it out..there's a thread on it somewhere on here...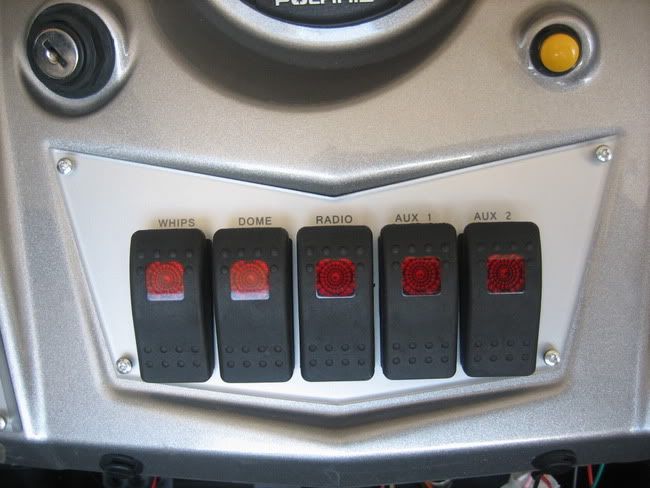 its $199 @ AST (Alpine Sand Toys.com), you can choose the plate color, Led Colors and what words for each switch..It is much nicer than anything I could make personally and come in with that type of quality for the budget..
QUESTION;
Is this the Actual Fabricator of this piece or am I looking for someone else? Is there a sponsoring vendor to choose from (I haven't looked to see if they are yet. I'm on a time crunch and promised pics..
Long story short..I threw her together..and when the shows over after Sunday she comes home to be taken apart for some serious quality time....Parts still need installing, +I am yanking the front Diff for a rebuild changing of ALL fluids ect.. I finally pulled her out of the Garage to load her in the 24' enclosed trailer..
It's not much to look at without a comparison and a cleanup..You all saw how dirty she was taken apart...I didn't know before I left for the EXPO that she would be getting some serious cleaning by hand!
The second she roared out of the trailer and rolled onto the convention floor, (you enter in the rear) I had to drive it ALL the way past 40 or so vendors setting up there areas to get to Polaris' Spot that was Awesome- It was the first vendor/section that is seen as you enter the Convention doors (where the public enters). Buy the time I had got to the other side of the Convention Center My exhaust was trailing about 20 people..ALL Bombarding me with questions!! Can I ride it how did you ? You get the idea.. I felt a real sense of accomplishment!
BUT she was still REAL DIRTY!
This is the early on set up, and will be the First thing that Convention goers will see when they enter through the double sets of doors.. Finally a picture comparison..(I know I promised HD and they are coming, But I didn't want to be in the way). In these two pictures you can see that my RAZR is magically cleaned top to bottom and as far as we could reach with every part!! I felt bad as vendors want to sell RAZR's , Snow machines (Sleds) or "Snow Mobile's to you southerners??, ATVS's, Tracks ect.. A comment was made by another vendor saying "I wouldn't put that one next to an "S" it just makes it look bad". He explained that when you want to sell an "s" model, just put it next to the 50" RZR, it's a huge difference. He went on to say that the difference between mine and the stock RZRS was giving the same effect.. (a glimpse of glee was appearing in me)
I would like to add that the RZR"S" model next to mine is the 2011 Carbon fiber model in Black and was freaking' Beautiful!!!(gorgeous Gauge, and better seats than I currently have..upgraded new style seat belts ( that lays to rest a question about Polaris using cheap seat belts in another thread) I've always drooled over that model as well as the others (The owner of Polaris Eagle river knew that and purposely brought that one).He challenged me to "out do his new Stock "S" he was selling with my little ol' 08 RZR!!
This is her all cleaned up now.. I had to move it as they were literally hanging snow machines from the ceilings ect..it's starting to get real elaborate(the show)!
So I hope this holds you guys off until the high definition Photographs taken tomorrow..
Also I didnt add this to my "build thread": because its although it's a "project" and My build thread needs to continue with issues on building. People who want to see the Fullbore Kit, This just keeps it easy, instead of searching through pages..
Thanks guys/Gals, Mike