Discussion Starter
·
#1
·
Finally, got to put in my C&D clutch. On one of the other threads someone said an hour and half ,I think someone said a couple of hours, Well It took me most of the afternoon Thats why I have started a new thread. Keep in mind I am a very capable home & farm mechanic.
Keep in mind this is the same procedure you will do if your belt breaks!!
If you ever break one in the feild your probably done until you get it home.
As has been said you must remove the seats and pannels behind them and under them, You will also have to remove the battery. You will need to remove the shift lever, pop the cap on the top where it says F-N-R. there is a bolt inside there that comes out. Remove the cross bar and next you must remove the fuel tank. WELL if you have a full skid plate You have your first problem. You can either remove the skid plate or cut holes where you will need to get to the bolts. If you opt to cut holes be sure you do NOT hit the fuel tank. I used a hole saw with a very very short pilot drill. I also had to cut a hole to get one of the seat brackets off a few steps back. You can now get to the clutch cover.
Note where all your cables and lines are and then remove the cover for the clutch and variator.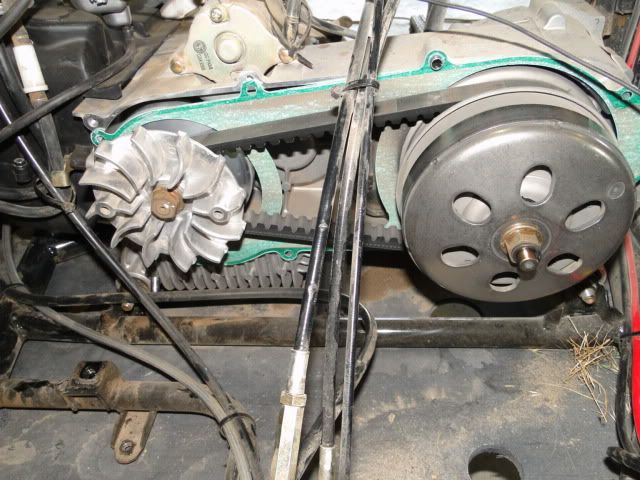 Both the nut on the variator and the clutch are easily removed with an impact wrench. If you don't have one good luck. GO find an impact wrench. The variator is pretty straight forward, remove, belt comes at same time. Replace back plat rollers and roller holding plate (all new in kit). Now some of what I have read says the 170 comes with 15g rollers but they also had an optional 17g roller. Mine were the 17g, why I don't know. ( I have a small scale for the kitchen). The kit came with 16g rollers. Now go to the clutch, REMEMBER this unit is spring loaded. I just put my knees on it to hold it while I removed nut. After removeing the spring the outer plate comes off but to remove it you must take out the 4 studs. they come out with pliers. The plate comes off with a twist.
Now it just a matter of putting it all back together.
The kit gave me great bottom end and I got back my top end which I had lost due to the 11T drive gear. It seem to be a little louder than the stock clutch but not bothersome.
There is another buggy site that I have gotton a lot of info from as the 170 is closer to a Carter , Hammerhead or Joyner buggy in there 150-250cc class. Its Buggynews.com also Buggy parts NW has some good articles. And with some searching there is a lot of info on the net on variatorsan clutches. Try Dr Pully. I also found some buggy clutch repair on youtube. Most of wht I have found is always unr buggys not RZR170.
This was actually an easy job but if you have a skid plate its going to take longer. Whish I had taken more pics but I just got lost in my work.
Good luck!