Discussion Starter
·
#1
·
Just thought I would throw this out there for the guys who may have similar issues and need a little guidance.
SYMPTOMS - My AWD would engage in 2wd just about instantly if you nailed it in 2wd and spun the tires. About rip the wheel out of your hand if you were turned any at all. I ran in AWD all the time until I could diagnose and repair the issue. AWD worked perfectly.
DIAGNOSIS - Set the rzr on 4 jack stands, rear tires on but front tires removed I began experimenting. What I noticed is the driver side axle cup seemed to bounce a little as I accelerated around 20mph in 2wd. This is when the front drive would pop in and out of AWD a few times until full locking into AWD all the while I am still running 20mph in 2wd.
So I picked up on the axle bar while accelerating to 20mph again (be careful) and 2wd worked flawless. As soon as I sagged the axle or pushed down just a little it would bang into AWD. Dead giveaway what the problem was (My buddy Kevin is the one who told me what to check over the phone, I can't take credit!).
TEAR DOWN - Upon tear down, the diff was clean. We do a lot of mud riding, so the oil had been a little milky twice but changed regularly. My armature had slight wear, starting to groove so I swapped it with another one. Might as well change it while your in there, cheap part.
PROBLEM - The problem is there is a bushing between the 2 hubs inside the front diff. This keeps the hubs aligned inside the cage. If you look at the drawing, both hubs are supported on the outer edges by bearings but locked together in the middle with a bushing to keep them in a straight line. The bushing is a press fit in one side but just snug in the other (maybe 1-2 thousandths difference new). which allows your front tires to spin interdependently of each other instead of being locked together. What happens, is over time the bushing and hub begin to wear. Mine had worn to the point it was deflecting and hitting against the rollers inside the cage and bumping it into engagement.
pictures.
Hubs together as if they were installed in the diff.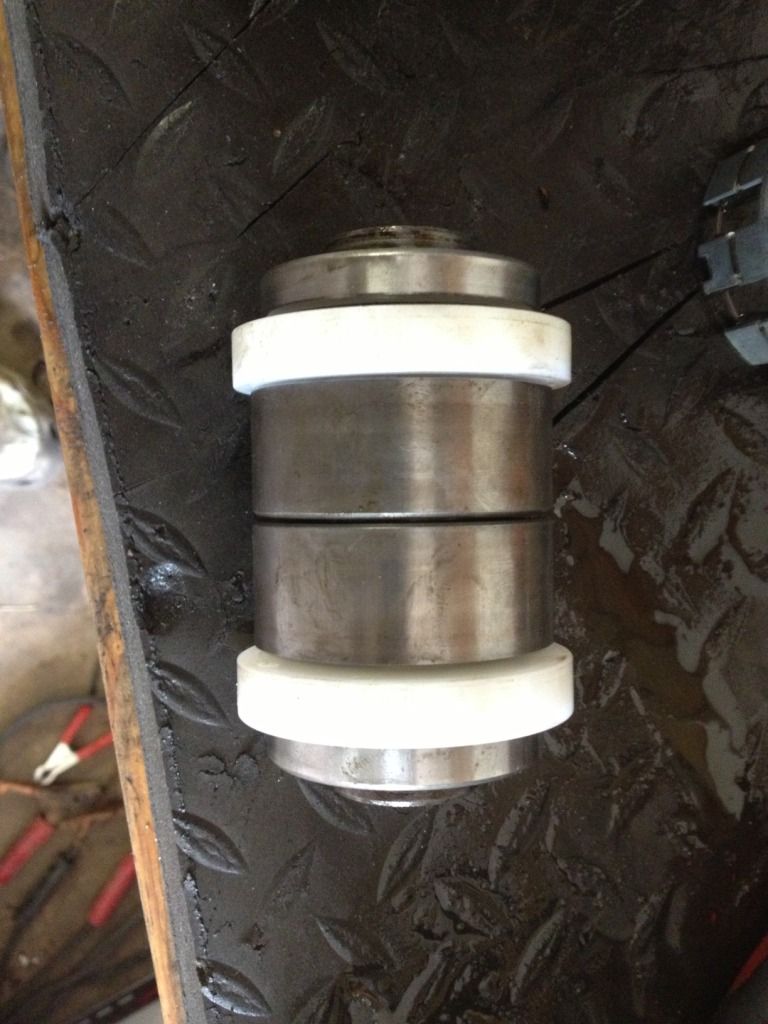 bushing between the 2 hubs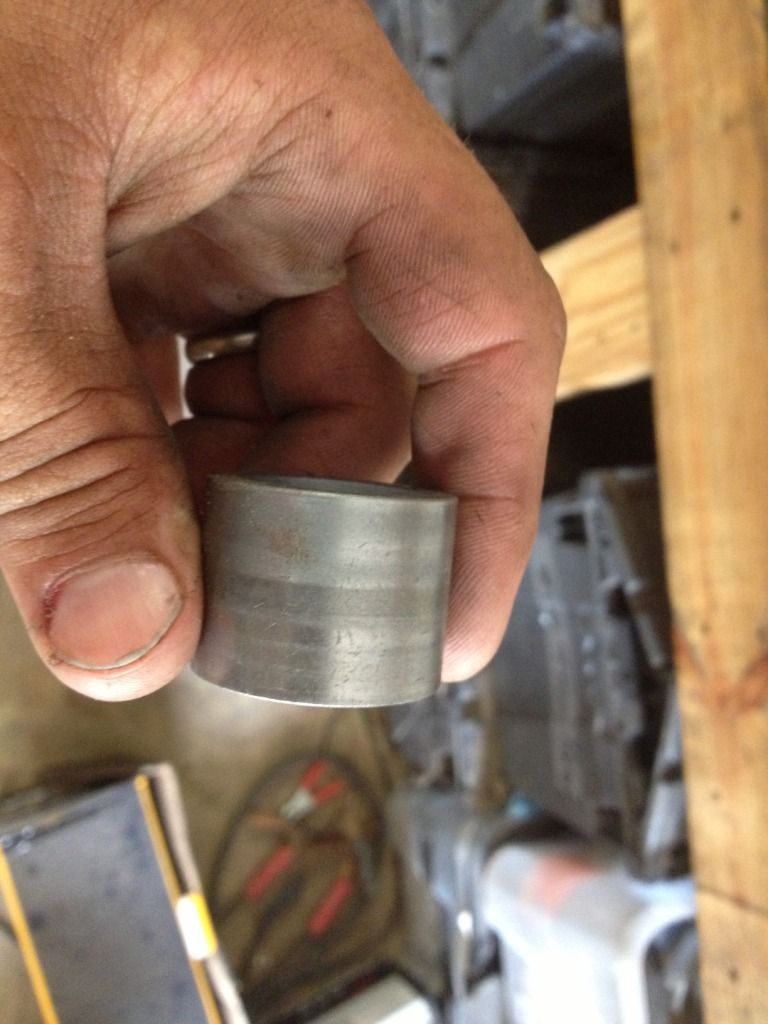 What happens over time is the wear causes the hubs to deflect and the center where they mean begins to bump against the rollers knocking it into AWD.
Image below is normal. Very little difference between the 2 hubs. This is on a 2011 800 S diff with around 200 miles on it. The deflection becomes very exaggerated over time.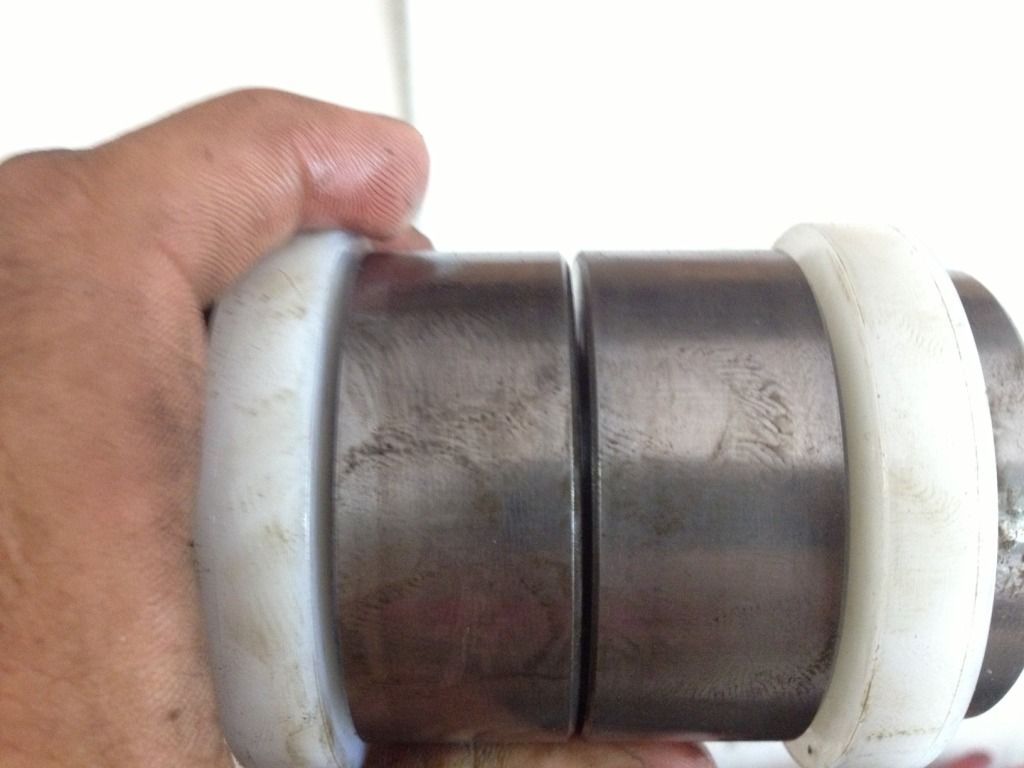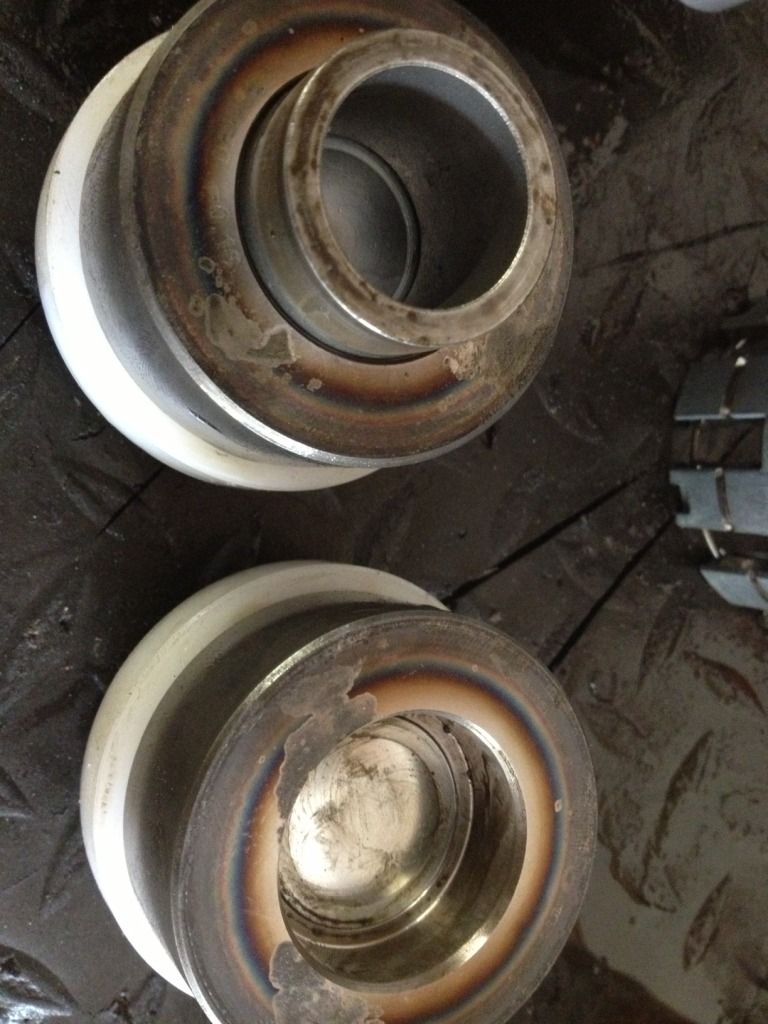 I don't have the pics of mine, I took pics and did the write up after I finished it all using another diff sitting on my work bench.
SOLUTION - I had a machine shop make me a new bushing for my hubs. FYI, only 1 hub and 1 side of the bushing wear because 1 side is pressed in. As the hub wears, it tapers slightly. If the taper is too much, you may need to have them re surface it. Doesn't matter how much they bore it out as you are making new bushing. My hub had very little taper but was worn roughly .003 so my new bushing is stepped. It is a press fit in the passenger side hub and a really snug fit in the driver side so the 2 wheels can still spin interdependently.
I know there is a lot going on in this post, hope it makes sense and helps someone else out. My cost was $75 for machining, wayyyy cheaper than buying the hub assemblies or a new/used diff (very few used 900 diffs around right now too).
After all, worse things can happen!! Here's a pic of another diff's hub that shattered at the female axle splines.