UPDATED 1/12/2015:
Added all wiring diagrams to first post below pics
IMPORTANT UPDATE 10/06/2014: -
Beware of your current setup!!!
So after having this setup for a few months I got bit by the cheap parts fairy. I left my RZR in the trailer for about 2 weeks without starting it. When I went back to it to pull it out of the trailer, I turned the key and nothing happened. Long story short, the battery was dead due to a constant 4mA draw from the relay. It forced me to replace my battery as well. My suspicion is that the relay went bad due to the constant beating it was taking. I now have an 80 amp Stinger Battery Isolator Relay on the way. The only downside to this, is now my fuse block circuit becomes an 80 amp max circuit instead of the 100 amp circuit it was previously. I will keep you posted as to the long term testing of this new Stinger Relay. Thanks to Richardson Performance for helping me diagnose this and getting me the parts I needed to fix it.
Over the past few evenings I have been working on installing my accessory fuse block under the hood. I ran a wire from my battery to a 100 amp circuit breaker. From there it goes under the center console (zip tied to the factory wiring harness) up to the larger compartment under the hood into a 150 amp relay. From the relay into my fuse block. The relay is triggered by an accessory wire from the 12v under the dash. Essentially, I will connect all of my accessories into the fuse block and run them to my relay bank (still on its way) to power the accessory. Also have Dunertunes 6 Switch Panel and Upper Corner Single Switch Panels to install. Only accessories to hook up at this point is the Sick-Stikz whip.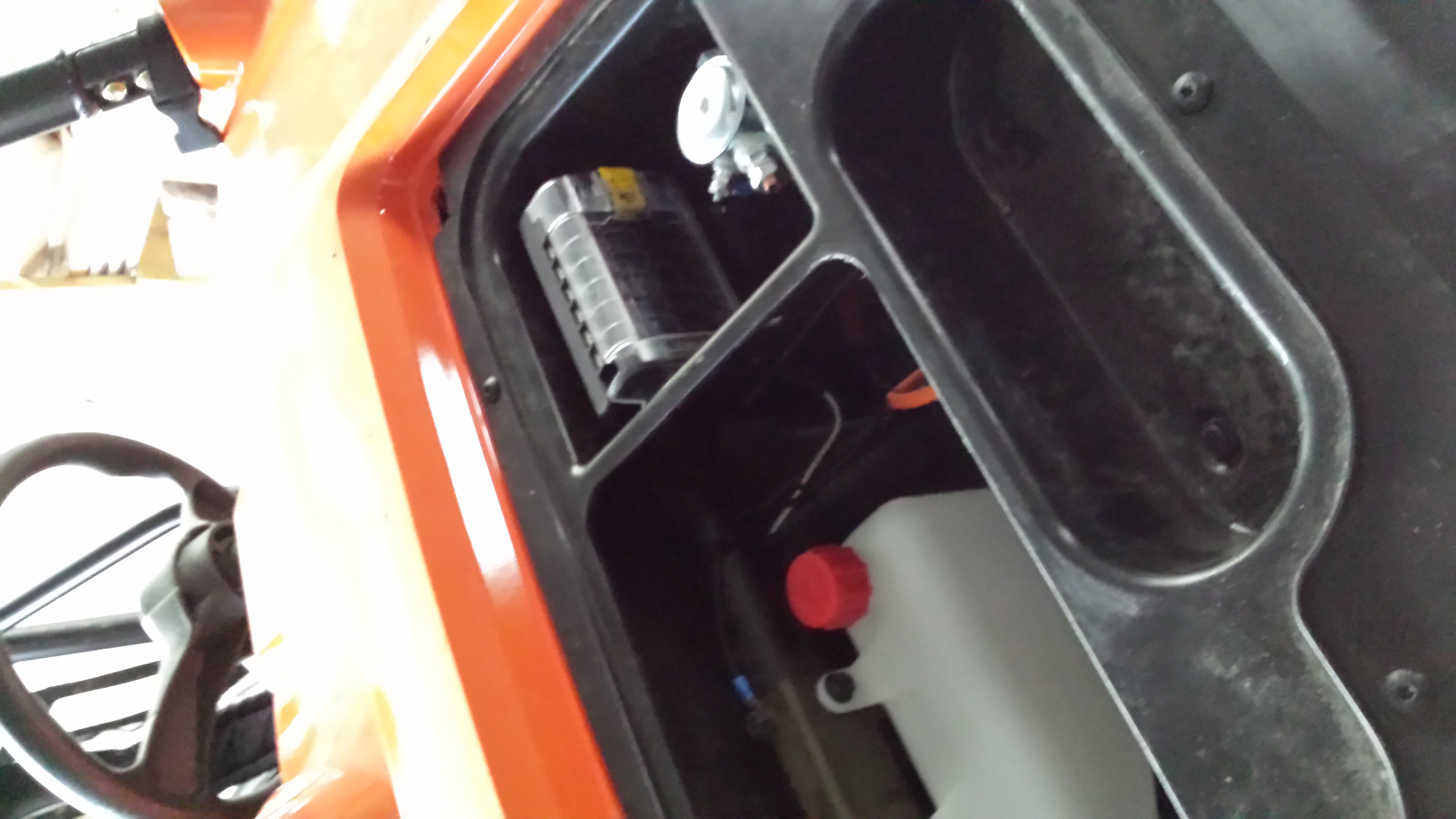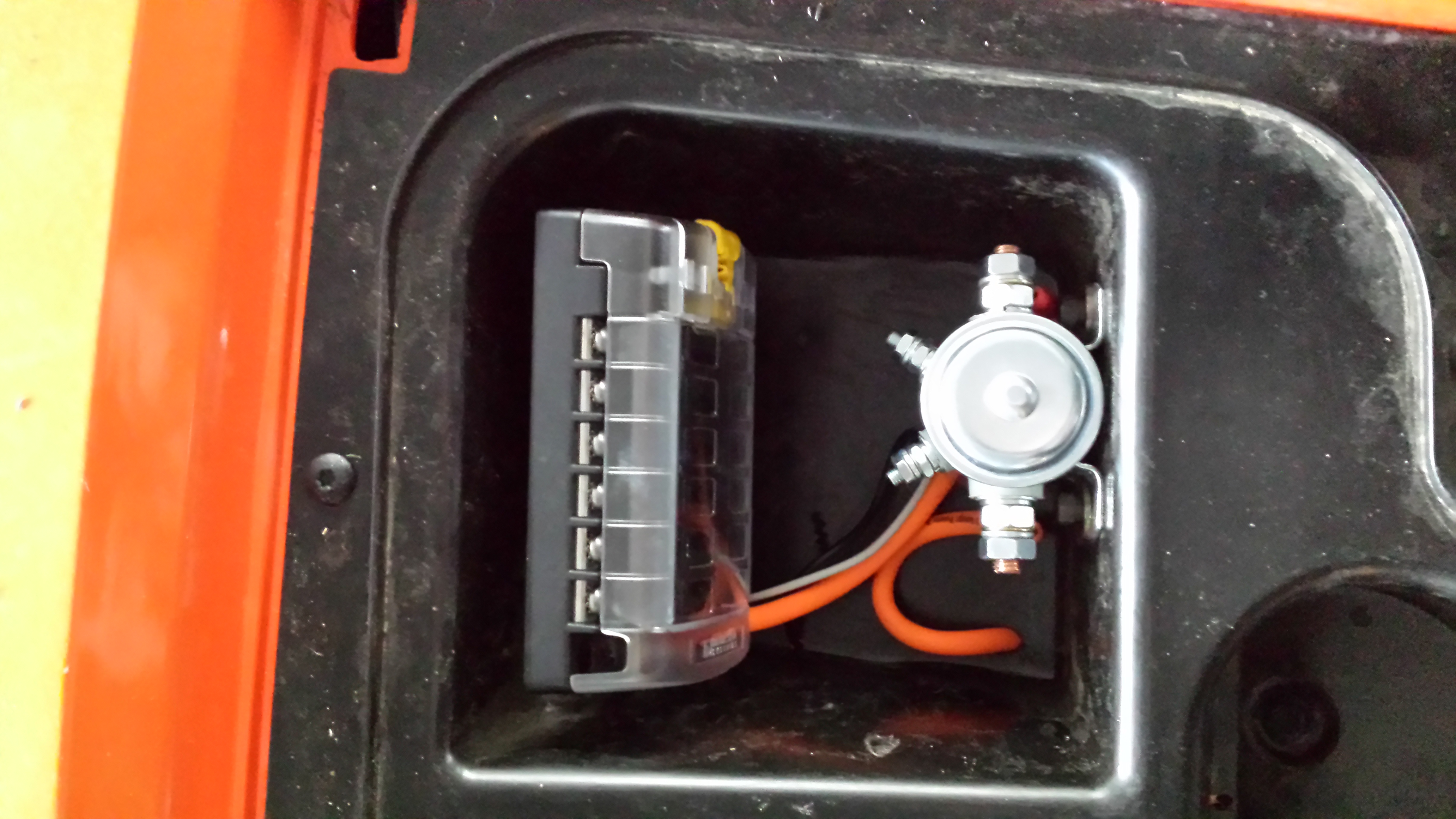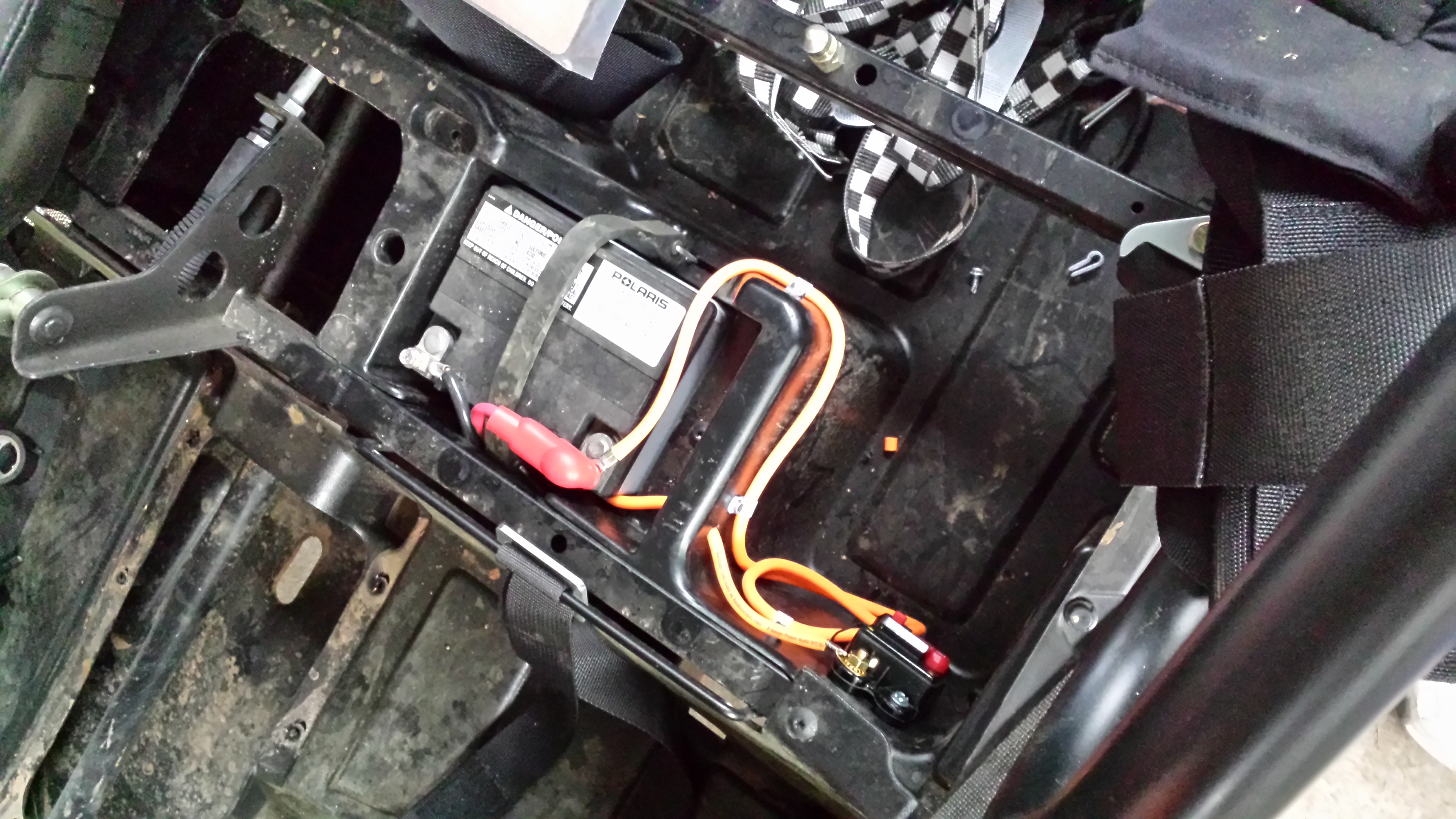 WIRING DIAGRAMS:
Standard Accessory Fuse Block - Powered by Key On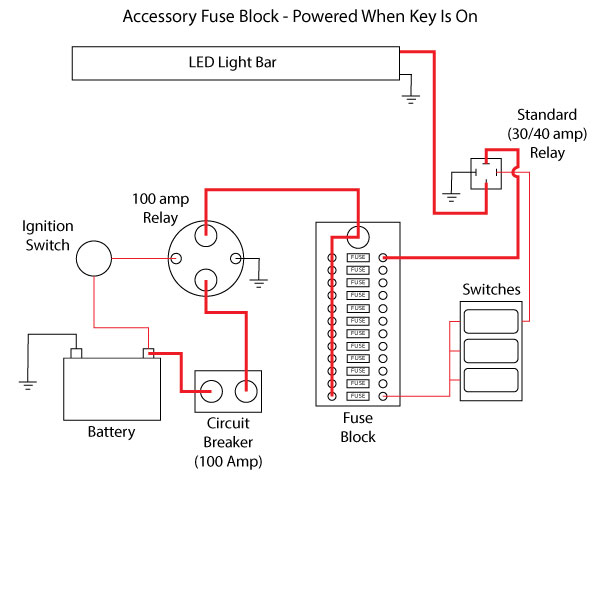 Standard Accessory Fuse Block - Powered Directly from Battery (Always On)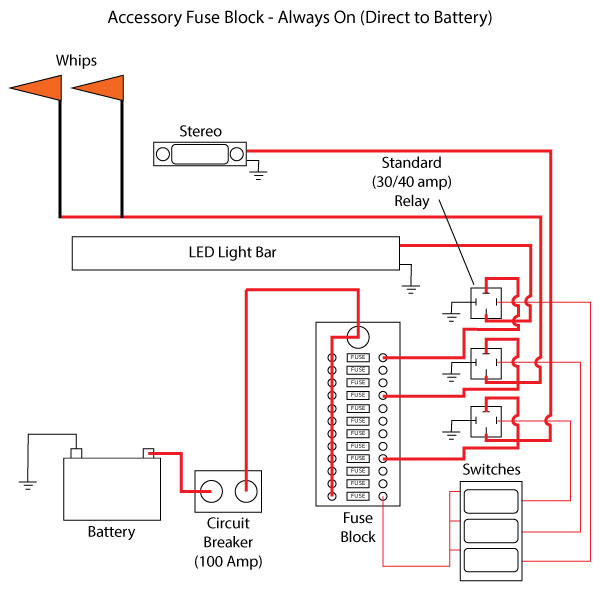 Dual Battery Accessory Fuse Block - Powered by Key On off of Aux Battery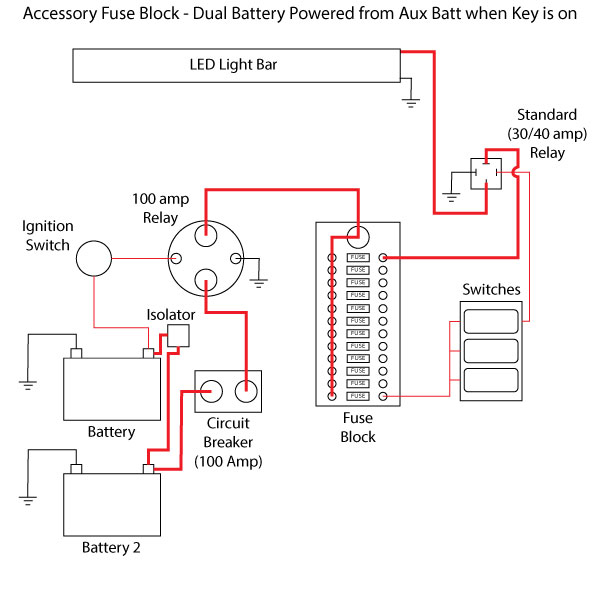 Dual Battery Accessory Fuse Block - Powered by Key On w/ Winch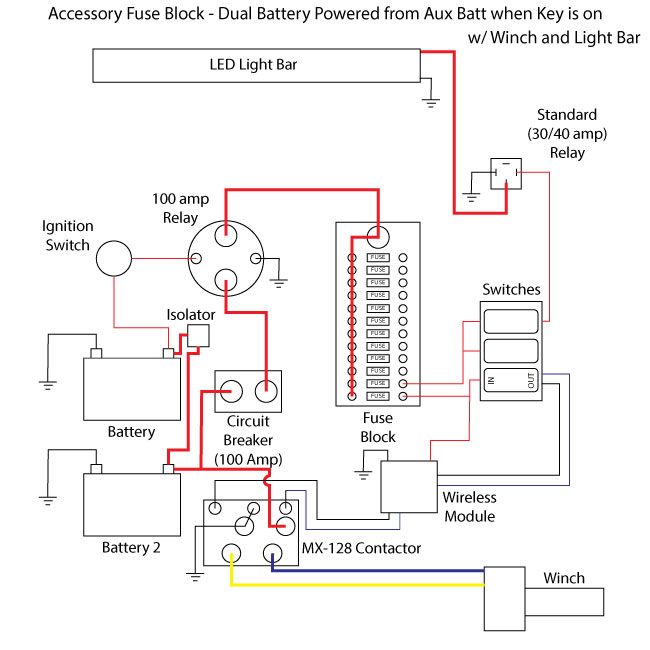 Dual Battery Accessory Fuse Block - Powered by Key On, w/ Winch, Light Bar powered from Headlight High Beam, Accessories powered by Headlight switch (Low and High Beam)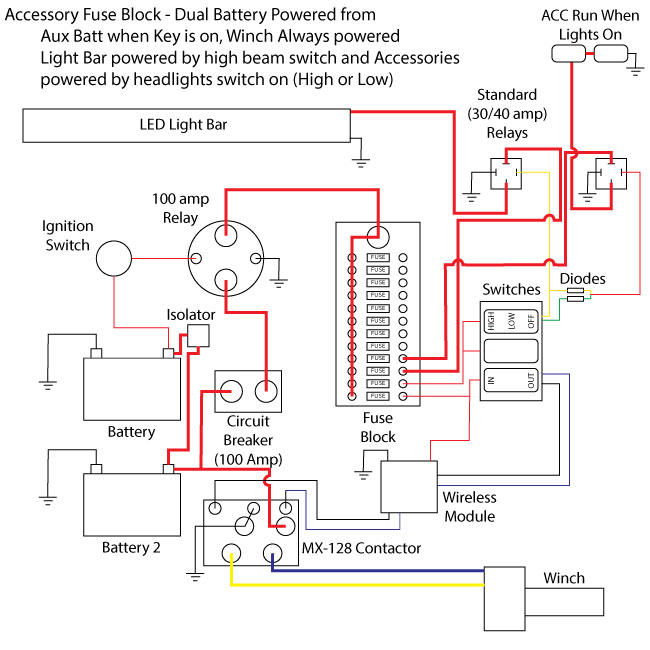 DISCLAIMER:
Certain improvement projects are inherently dangerous, and even the most benign tool can cause serious injury or death if not used properly. ALWAYS READ AND FOLLOW INSTRUCTION MANUALS AND SAFETY WARNINGS. You must be particularly careful when dealing with electricity — always use common sense.
Any advice, guidance or other information provided in this post cannot completely anticipate your situation. If you are at all unsure about completing any aspect of this or other projects, consult a qualified mechanic to perform the service(s) for you.
YOU EXPRESSLY AGREE TO HOLD JOSH RICHARDSON HARMLESS FOR ANY PROPERTY DAMAGE, PERSONAL INJURY AND/OR DEATH, OR ANY OTHER LOSS OR DAMAGE THAT MAY RESULT FROM YOUR USE OF THE INFORMATION OR SERVICE PROVIDED.
No advice or information, whether oral or written, obtained by you from me or through this thread, shall create any warranty not expressly made herein.
Reader agrees to assume all risk resulting from the application of any of the information provided by Josh Richardson.
By using the advice and suggestions in this thread, the visitor agrees that the use of this thread and its information product is entirely at his/her own risk.