Official Site Vendor
Member #22031
Join Date: Jan 2011
Location: USA
Posts: 2,278
Feedback Score: 4 reviews
(
0
)
Presidents' Day Deals!
---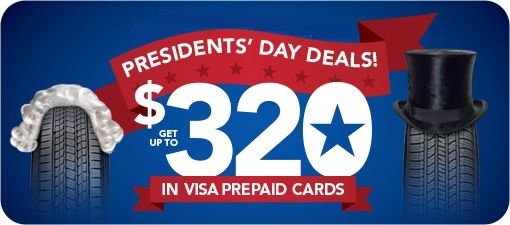 Discount Tire
is the place where America Saves on tires!
This week we're celebrating Presidents' Day with incredible deals! Get a VISA prepaid card for up to $100.00 when you buy a select set of tires.
WANT WHEELS?
Get a $100.00 VISA prepaid card when you buy a select set of wheels.
Use your
Discount Tire credit card
and
SAVE EVEN MORE!
Get up to $320.00 when you buy select tire and wheel packages with Discount Tire credit. This week only.
AT THE STORE (2/12 & 2/13):
TO YOUR DOOR (2/8 - 2/15):